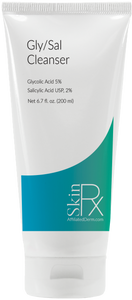 Ultra pure glycolic acid available 5% coupled with the proven acne fighting ingredient salicylic acid USP, 2%. Specially formulated to unclog pores and accelerate the removal of dead skin cells that can interfere with the proper oil drainage of the skin.
Product Highlights
Excellent and affordable solution for pediatric, adolescent and adult patients
Glycolic Acid
• Delivers beneficial cosmetic skin care properties
• Promotes exfoliation
• Promotes smoother looking skin
Salicylic Acid USP
• Removes surface oils
• Unclogs pores
• Opens up plugged follicles
Witch Hazel smooths and tones the skin
Skin conditioners and natural botanicals hydrate irritated skin
Use and more info
Wet affected area, wash and rinse well.  Use once or twice daily or as directed by your doctor.
Available in a 6.7 fl. oz. squeeze bottle
Gluten, Paraben, Oil and Sulfate-free
Non-comedogenic (will not clog pores)
Key Ingredients
Active Ingredient: 2% Salicylic Acid (indicated to treat acne)
Glycolic Acid, Green Tea Polyphenols